Back to training! HTS is open today after I took a quick, but very fun trip down to Atlanta. I have made a change in the semiprivate training schedule, effective next week.
•delete Tue at 10:00am
•add Fri at 5:00am
The early mornings have been the busiest, including Tue & Thur at 5:00am being filled.
The Importance of the Motor Skill Development Window
This past Saturday I was able to watch my nephews play baseball. They did well, as they are good athletes. However, after watching the 8-yr olds and some of the 12-yr olds, I was reminded about the importance of the
motor skill development window.
. This critical development window is usually between the age 4-9 yrs of age, and is the time when the brain has its greatest neuroplasticity and motor skills develop very rapidly. After this window closes, acquiring new motor skills is harder (can't teach an old dog new tricks), but still possible to a limited extent.
Now most kids will not play at the pro or even college level, but these basic motor skills are important for fitness training as an adult. I see a very distinct difference in adult clients who were active and/or played sports during this
motor skill development window.
Just about all fitness activities have some level of motor skill to them (even those machines). It is so much easier to pick up new exercises when you have a solid motor skill foundation upon which to build.
Additionally, the
athlete's mentality
, that is the ability to stay focused, be persistent and learn to tolerate discomfort, all benefit the adult trainee tremendously. So, even if your kid is not the best athlete on his or her team, he or she is still gaining a valuable experience/skills that will be important his or her whole life.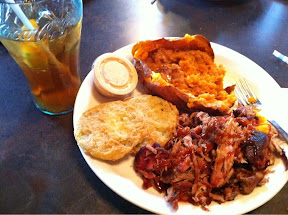 I was able to apply the Food Rules Thursday, even at Hog Wild BBQ in Clarkesville Georgia with: pulled pork, sweet potato, fried green tomato, and (gasp) Northern (unsweet tea).