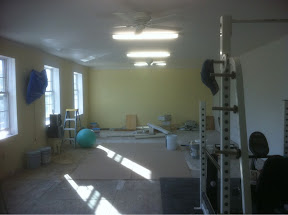 This week we were able to finish priming all of the new walls and the ceiling. Thanks Penny and Sheryl for your help! Also, the light fixtures and fans were installed. And a client of mine, Ernest, stopped by to measure out the entry hallway for the six cubbies he will be making. I am excited about that.
The information about the new semi-private training was also published on its own page on this blog. It is a unique training service (slightly different than what I currently offer) that I will offer in addition to private training at the HTS training facility. Click above on the "semi-private training" page link above to find out more.
We are still on schedule for a November 2-4th opening. A week prior to that I will be signing up people for training. Check back soon for more updates.